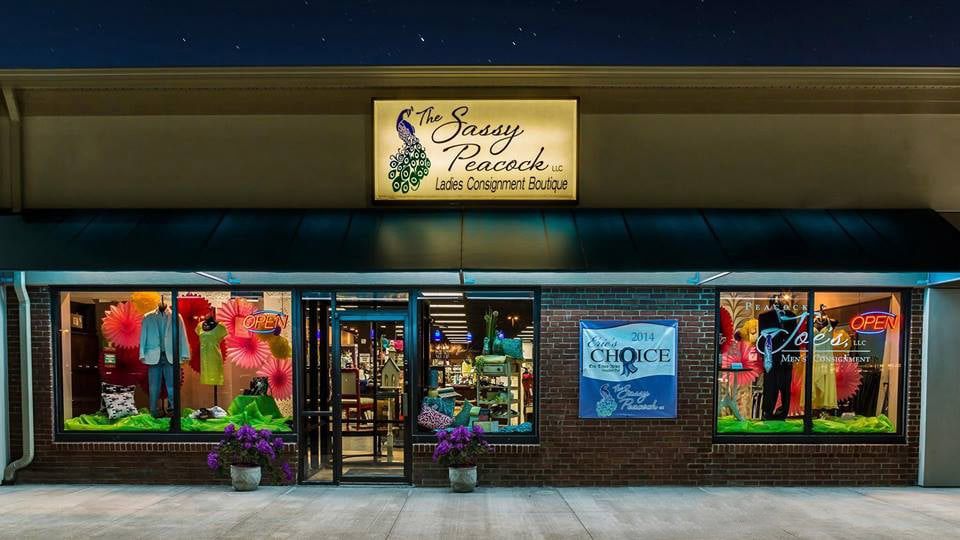 Ladies & Mens Consignment Boutique
Welcome to the Sassy Peacock
The Sassy Peacock features a unique blend of new and gently-loved ladies apparel and accessories including handbags, jewelry, shoes, scarves, and belts.
Shopping can be a form of therapy! Resale Therapy to be exact! You will certainly find many designer labels to choose from at The Sassy Peacock to update your closet!
Regardless of our supply of designer names, we are rather picky and only accept and select items that still have lots of life in them and are "in style"! That is the "Sassy" Difference! Are your consignment items Sassy Enough? 
The Sassy Peacock
845 Pittsburgh Avenue
Erie, PA 16505
Monday–Friday: 10 am – 5:30 pm
Saturday: 10 am – 5 pm
Sunday: Closed
---
CONSIGNMENT BY APPOINTMENT OR DROP AND GO FOR YOUR CONVENIENCE
What our Customers have to Say
Just wanted to let you know that I have been coming to The Sassy Peacock from the day they opened. I absolutely LOVE your selection and quality of goods. But more importantly . . . from the moment I walk in your doors I have always!!! been greeted with a friendly smile and always made to feel so comfortable!

I have spinal stenosis and not only is money tight, but so is the time I can spend standing or sitting. Luckily, The Sassy Peacock helps with both. My 16 year old can bring in her babysitting money and pick out an outfit with the help of the staff. The staff is young/hip enough for her to trust but professional enough for me to trust as well. We also love the idea that purchases of gently worn articles are earth friendly!

My mother-in-law never pays full price for anything and was adamant about needing an elastic waistband pair of jeans…so my job was cut out for me. The Sassy Peacock only carries classy, modern, and current styles so I was not hopeful to find this pair of jeans, petite even! A staff member, went "in the back", probably where the rejected clothing is stored! And she found the perfect pair of jeans. Petite with elastic waist and pockets! Mom was thrilled. We are all believers in the service and friendliness of The Sassy Peacock.

The staff would just hand me outfits while I was in the dressing room, and then they helped me accessorize the outfits. It was like having my own personal shopper! What a great feeling!! They really showed me how to put outfits together and proper clothes to wear for my body type. I can't say enough about The Sassy Fit Service at The Sassy Peacock. Sassy Fit has really shown me all the tools of shopping to make me look great in my clothes.

The Sassy Peacock can take the drabbest pheasant and transform her into the snazziest peacock! How do I know? Well the ladies there worked with my chubby size and the clothing they had on-hand to dress me up for confidence.

I live in Ohio and visit my Erie friend infrequently, HOWEVER, when I do visit, your store is on the "must see" stops!! It's unparalleled in selection, service, and presentation . . . all factors that make The Sassy Peacock the pre-eminent store in the greater Erie area!

The Sassy Fit at The Sassy Peacock is a wonderful service for those of us who are not that good at shopping and putting together an outfit. I just called and gave them all my sizes for pants, shirts, skirts, and shoes and made my appointment to come in, and they did all the hard work for me. You really feel special when you go in and see the racks of all the clothes they have put together for you to try on.
Stop by often! Our inventory changes from day-to-day!